Discovering Puppet Theatre
01 04 2023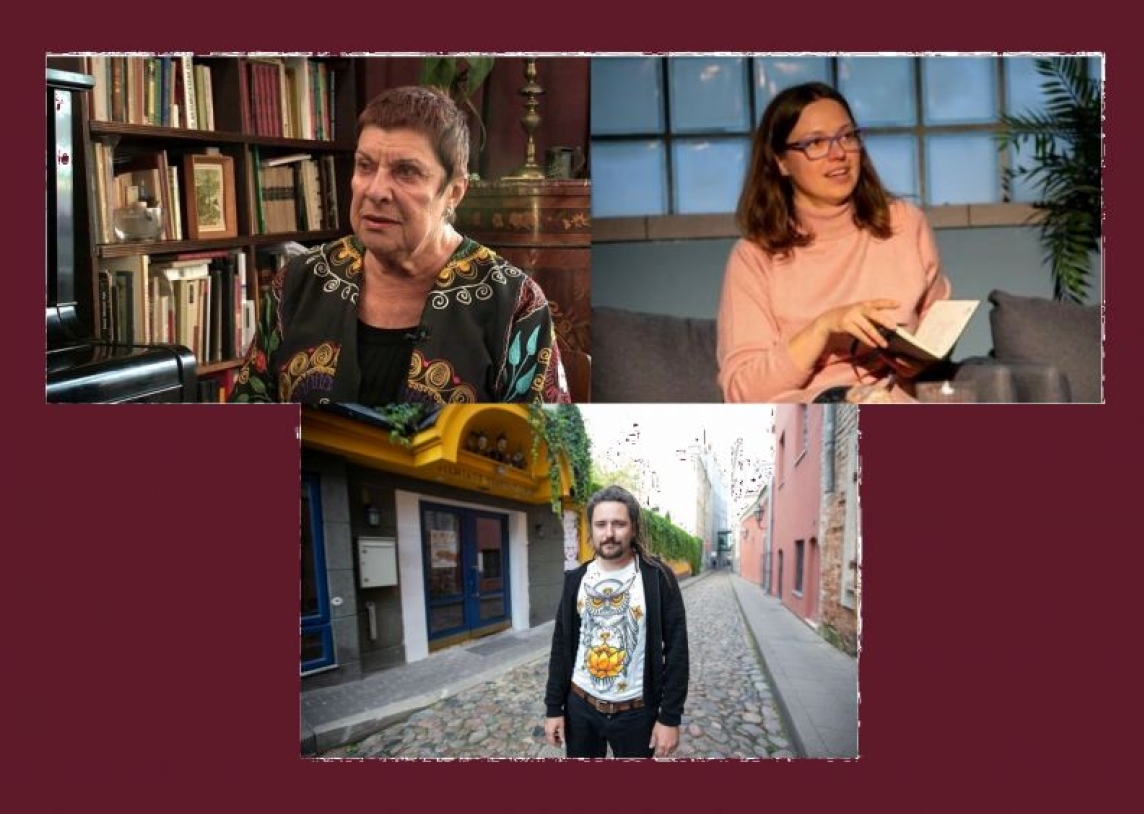 "Menų faktūra" photo montage: stills from the documentary "Vilniečiai" (directed by V. Damaševičius)
Author: Dovilė Jadzevičiūtė
Translated by Laima Bezginaitė
How often do you read about puppet theatre in the cultural press? It seems that today it would be inappropriate to claim that the above-mentioned type of performing arts is less "serious" than drama, opera, or ballet - after all, it has proven its autonomy and artistic importance more than once. However, the question is whether it is given enough attention. We discussed this with three people who are brought together by their education as art researchers and their activities of nurturing, reflecting and analyzing puppet theatre: doctor of humanities,  theatre expert, art critic Audronė Girdzijauskaitė (A.G.), head of the Association of Performing Arts Critics, theatre expert Kristina Steiblytė (K.S.), and theatre expert, head of the Vilnius theatre "Lėlė" Vilmantas Juškėnas (V. J.).
Audronė, what was puppet theatre in Lithuania like when you started analyzing it?
A. G.: When I returned from Moscow (1963) after my studies, I got a job at the School of Cultural Education. One of the lecturers there was director Balys Lukošius, who had founded the professional Vilnius theatre "Lėlė". He was very interested in actors' education, so he put together a course that dealt with this particular genre of plays. It was a difficult time for artists due to the prevailing demand create based on the socialist realist method - performances had to be realistic, had to have a positive hero, and at the time Lukošius was a supporter of this format. I remember once receiving a photograph of his production of "Eglė the Queen of Serpents" (1958), where I thought - what a kitchen-sink theatre for potato peelers. But Lukošius was a cultured, enlightened person, who liked romantic plots and felt attraction to his Lithuanian roots.
After some time, the boundaries of realism began to blur, theatre became more creative. After graduating from the Lithuanian Art Institute, Vitalijus Mazūras began staging different plays. His "Little Tiger Peter" (1967) had generalized forms, but the actors were not yet able to act using a conditional puppet. Vitalijus continued to lead the theatre in the direction of metaphorical and poetic art aesthetics.
Kristina, what prompted your reflections of puppet theatre in the media?
K. S.: For me, reviewing puppet theatre was a lucky coincidence. I remember my childhood visit to a performance as a terrifying experience; after that, I did not want to go to the puppet theatre anymore. And I did not do that until the beginning of my studies, when my lecturer Vitalija Truskauskaitė encouraged take more interest by telling me about the international puppet theatre festival that was taking place in Kaunas - I became interested, started volunteering and saw several foreign performances that I liked. The most memorable of them was "Man - Stork" by "Los Titiriteros" theatre. At the festival I also saw puppet theatre performances for adults for the first time, such as "Intimacy" by the Iris Meinhardt troupe. Also, during my studies, I did an internship at Vilnius "Lėlė" theatre, later together with its troupe we went to a festival in Białystok, Poland (2011). I realized that puppet theatre can be remarkably diverse and interesting.
Vilmantas, how did you become interested in this type of performing arts?
V. J.: While I was studying theatrology at the Lithuanian Academy of Music and Theatre, Audronė Girdzijauskaitė who taught the history of Eastern theatre introduced us to the basics of scenography and the history of puppet theatre. When she found out that I took interest in painting and that I had studied at Justinas Vienožinskis art school for several years, she kept assigning me tasks related to scenography or puppet theatre analysis. The lecturer suggested that everyone finds their own niche "cup of tea". I consider Audronė my main and first Teacher and I feel grateful to her for the basics of professional knowledge.
When I started attending puppet theatre performances more frequently, I got to know their interesting and talented creators - Julija Skuratova, Vitalijus Mazūras, Rimas Driežis. Later work at "Lėlė" theatre, participation in the activities of our puppeteers' association UNIMA, the first festivals, new meetings with creators and their works, and the international context entangled me and has not let me go since. That's how I realized that I had found my "cup of tea".
Audronė, share your impressions from international festivals with us. What theatre trends do you notice in other countries?
A. G.: I remember how one morning in 1966 I entered the cafe "Vilnelė" on Gediminas Avenue. There, I noticed Lukošius at the bar. I sat next to him, and he said: "What are you doing here, Girdzijauskaitė, wasting time sitting, drinking coffee, smoking... You'd better do something meaningful." I was a bit shocked, but then I asked what he had in mind. He explained that the first festival of puppet theatres of the Baltic states and Belarus was about to begin in Tallinn and offered to come together. I said that I would have loved to, but I lacked funds. Lukošius took care of that - for that occasion a position of, I think, electrician was created for me at the puppet theatre.
The first and subsequent festivals that I had the chance to participated at revealed to me what kind of, where, and how theatre was created. They helped me to learn, to gain experience and to try myself out in expressing my opinion. At the time, the performances staged in Riga had already departed from realism, for example, in director Tīna Hercberga's "Adventures of Piff" (1968), the puppets were shaped out of fake vegetables right in front of the audience, artist Pāvils Šēnhofs created the so-called artist's theatre, in which a lot of importance was given to the form, and Polish psychologists had already began taking interest in children's perception capabilities. This country's puppet theatre flourished, because it could be more open than drama. 
Could you maybe tell us what the Lithuanian critics review most often?
K. S.: Most of the texts are dealing with the performances that are shown in the capital city and on the most important stages of the country - national and state theatres, also, the performances of famous directors also receive more attention. Theatre critics usually focus on drama theatre, but the number of texts analyzing the performing arts and their content are closely related to the funding of a cultural publication or the opinion of its editor.
A. G.: A tendency has long prevailed for critics to be taking the same path, discussing mostly drama theatre and mingling in the same environment. Thankfully, they started looking sideways.
Vilmantas, do you notice the changing trends of writing about puppet theatre?
V. J.: The Queen Review is little by little pushed out by Mr. Commentary. Also, nowadays, books, magazines, and newspapers are being replaced by portals, platforms, or social networks, where posts can be edited, deleted, blocked, or linked in a matter of a few seconds. We are living in a constant noise of information, where more serious texts and subjective opinions are beginning to level off, lose weight and authority, tend to get lost in the background of other news.
Kristina, what is the role of puppet theatre reflection in the field of criticism?
K. S.: Puppet theatre performances are mostly chamber performances, intended for a small number of people. It should also be taken into account that puppet theatre is usually aimed at children, therefore a critic needs additional knowledge about the psychology and development of children. The writer should know visual and plastic language, understand puppet movement technologies and many other things. A critic needs to not only know about the specifics, but also to convince the editors that it is worthwhile talking about puppet theatre, while the editors tend to choose texts that ensure greater readability, which is hard to achieve with reviews of performances for children. After all, the little ones do not care about those, and maybe only a few parents might find them interesting.
So, puppet theatre reviews are far too scarce, not all performances are even discussed. While contemplating the situation, I opened the "Menų faktūra" website; the first text on this topic that I found was about Aušra Bagočiūnaitė-Paukštienė's performance "Clouds" that was shown in "Lėlė" at the beginning of 2021. Of course, "Menų faktūra" does not republish everything from other publications.
What do you think are the reasons behind such a low number of these texts? Are there enough performances that would be interesting to talk about?
K. S. The reviews are scarce because critique is a hobby, not a job. Is that a problem? It's a tricky question. I am not sure whether professional reflection is very needed these days, and if there is a demand for feedback, it is easy to get it. Previously, critiques were important documents for shaping history; now everything is filmed, photographed, and recorded. Also, critics are no longer opinion-makers. This profession is becoming an island, where theatre-loving people write for other theatre-loving people. Performing arts critic Vaidas Jauniškis shared his insight on social media, stating that currently many people tend to predict the future and become fortune tellers from coffee grounds patterns. I agree, maybe people around us really don't need experts anymore. The pandemic illustrated this very well - people don't even want to trust doctors.
And, talking about puppet theatre performances, there definitely are some worth paying attention to. Usually, the three main puppet theatres of Klaipėda, Kaunas, and Vilnius make about four premieres a year, but we also have others, such as "Aitvaras" in Alytus, "Lėlių vežimo teatras" in Panevėžys or "Stalo teatras"...
Vilmantas, do you find the amount of texts discussing puppet theatre sufficient?
V. J.: I think so. When I compare their number with reflections on opera, dance, or modern circus, I calm down - similar patterns of critique are probably characteristic of all non-mainstream types of performing arts. However, is quantity alone enough? Probably no. The quality of texts is more important.
A number of theatre experts and critics conduct artistic research, write books, have published and are now publishing interesting articles and reviews: Audronė Girdzijauskaitė, Dalia Gudavičiūtė, Rūta Oginskaitė, Raimonda Bitinaitė-Širvinskienė, Daiva Šabasevičienė, Rimantas Driežis, Julijus Lozoraitis, Ramunė Balevičiūtė, Kristina Steiblytė, Ingrida Ragelskienė, Andrius Jevsejevas... And it's only in Vilnius, while there's also Kaunas and Klaipėda.
Audronė, you have mentioned that currently there is no one in Lithuania who would consistently reflect on puppet theatre. Why do you think that is?
A. G.: It's true, I haven't noticed anyone who would do it consistently, and some passerby who saw something and wrote something does not interest me at all.
I strongly believe that there are huge gaps in the training of theatre specialists. Theatre should be taught by covering all areas of art, starting not with ancient Greek theatre, but with the origins of masks, sculpture and mythology. Currently, it is trendy to rely on theories, but how can one understand them without delving into the essence of theatre?
Vilmantas, what information about puppet theatre is available in Lithuanian language?
V. J.: There is quite enough of literature that is useful for learning terms, names of creators, phenomena, philosophical ideas, and specific characteristics. If you look closely and then read even more closely - you will find everything.
First of all, in order be able to fully understand the artistic evaluation criteria of puppet theatre and the consistent patterns of its specifics and become acquainted with historical texts and phenomena, I recommend reading Lėlė ir kaukė and Vitalijaus Mazūro aukso amžius compiled and written by Audronė Girdzijauskaitė and the textbook Lėlių ir kaukių teatras by Stasys Ušinskas. Dalia Gudavičiūtė's articles on the history of puppet theatre and set design, published in the Lithuanian Cultural Research Institute's Lietuvos teatro istorija are also important. For dramaturgy researchers, I would recommend Nijolė Indriūnaitė's collection of plays for puppet theatre Baltos pasakos and Kęstutis Urba's book Auginančioji literatūra dedicated to children's literature research. It is also worth taking a look at the memoirs of founder of the Vilnius theatre "Lėlė"  Balys Lukošius and founder of the Kaunas State Puppet Theatre Stasys Ratkevičius. You would also be surprised by how much interesting literature on puppet theatre topics our professional puppeteers have!
Audronė, what should a critic know in order to be able to write about puppet theatre?
A. G.: The essence of puppet theatre critique is love for the research object, subject and the environment in which it lives. It is important to know and love art, its styles, trends, to visit exhibitions, to understand the circumstances of theatre formation. Also, to look at the very beginning of puppet theatre which really is a half-savage man's desire to create and to depict. After all, the primitive man created the shape of god - a sculpture, which, when moved, gave the roots for the emergence of theatre. The whole puppet theatre is the work of human hands. A puppet combines a multitude of different elements, and there are many techniques for controlling it; Rimas Driežis could tell you everything about this topic, so I'm always interested in his insights. Naturally, the aforementioned elements have their own names that one needs to know, but, alas, our terminology situation is in a bad shape, as no one has written any books on this topic or created relevant terms.
Kristina, based on your personal experience, can you comment on the difference between writing about drama theatre and about puppet theatre?
K. S.: The difference is not that big, but many critics don't have the tools for analyzing visual theatre. Of course, it's easy for me to say, since during my art studies at the Vytautas Magnus University I learned not only about theatrology, but also about art and architecture, so I got acquainted with terms for describing shapes and volume. Naturally, when the critics do not work in the context of visual arts, they write about puppet theatre as if about drama theatre and instead analyze the dramaturgy and its relationship with the audience. The content and form of their reviews focus on things that are universal for both puppet and drama theatre, while the specifics of visual art are often lost.
During my studies and practice and while independently developing my knowledge about puppet theatre, I came across a sensitive problem. In different cultures and languages, the meanings of words differ. For instance, in French, marionette is any kind of puppet, while in Lithuanian it is specifically a puppet controlled by strings. There are many linguistic inconsistencies, therefore, when reading a book in English it is not necessarily clear how a certain term would sound in Lithuanian. Also, in Lithuania many critics tend to avoid detailed descriptions, which, for example, are extremely important for analyzing art. A description of a certain scene or image can attract a person to watch a performance or read a review. For me personally, a puppet theatre is a place where magic happens, where the inanimate becomes animate, therefore, so I want to help the reader see what took place on the stage.
Vilmantas, since 2020, young authors are invited to review performances for the project "EU Contemporary Puppetry Critical Platform" (ECPCP). Please, tell us about its ideas and goals. What could be the contribution of this initiative to the field of puppetry critique?
V. J.: The idea of this project was born back in 2019, during the participation of the Vilnius theatre "Lėlė"  (with the performance "The Sandman") at the international visual theatre festival "NuQ Treff" in Tallinn, Estonia. There we met the managers of the Slovenian Ljubljana Puppet Theatre, the Scottish puppeteers' association "Puppet Animation Scotland", and the international festival "Manipulate" (Uroš Korenčan, Ajda Rooss and Simon Hart). Some time later, Croatian puppeteers (The Academy of Arts and Culture in Osijek) joined the preparation of the project. During the festival, my colleagues and I discussed the possibilities of cooperation, discovered a common issue and desire to encourage the involvement of the younger generation of theatre critics, to facilitate their education in the field of puppet theatre assessment, and, at the same time, to develop the field of professional research, assessment, and reflection of contemporary puppet theatre theory and to create a contact base for a new international network of institutions of the younger generation of critics and puppeteers. We were intrigued by the unusual (in terms of the geographical locations of the countries) opportunities for cooperation with foreign partners and the chance to gain new experiences.
We have implemented most of the main tasks of the project: we have created an online platform, written reviews, and conducted creative exchange. This autumn, two quality publications were published and presented - Lutka magazine devoted to contemporary puppetry theory and the book Contemporary Puppetry and Criticism. In the future, depending on financial and partner opportunities, the ECPCP could continue to expand, to attract new specialists in the field of puppet theatre critique, to discover and implement new opportunities for international mobility, and to create and maintain a base for professional development in the field of puppet theatre.
Audronė, has there ever been a golden age of puppet theatre critique?
A. G.: No, how? There has never been such a thing.
----
The publication was funded by the Lithuanian Council for Culture
Published in: menufaktura.lt 
----
"Menų faktūra" photo montage: stills from the documentary "Vilniečiai" (directed by V. Damaševičius)